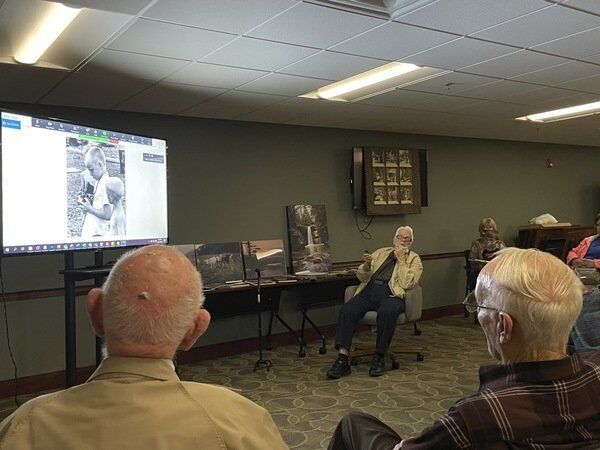 From the Richmond Register, April 22, 2022 - Taylor Six
https://www.richmondregister.com/news/wandering-with-warren-historians-taken-back-in-time-with-photographs/article_79c88f84-0a9a-5e3c-8d7e-2a84e26ef6c4.html
The basement of the Berea City Hall was packed with those interested in history -- particularly through photographs -- which took them back in time in the city of Berea, and other incorporated areas of Madison County.
On Tuesday, the crowd was greeted by the Madison County Historical Society for a presentation of 'Wandering with Warren' which featured Warren Brunner -- famed Berea photographer who highlighted his collection of photos from the 1930's to the present.
According to Sharon Graves, the president of the Madison County Historical Society, Brunner has spent more than 50 years photographing chronicling the folk-way, the land, the seasons, the people and culture of the Appalachian region. He has produced documentaries of his photography for more than 30 government and non-profit organizations as well as his work being featured in several books.
Brunner is the 2017 East Kentucky Leadership Award for Culture and Arts recipient.
The audience was taken back in time by Brunner, who moved to Berea in 1954 to work in the photography studio of Ebba Mattson. Shortly after, Brunner opened his own studio, Brunner Studios, which is now owned and operated by his daughter Kara Beth Brunner.
Many in attendance had their senior portraits and even their weddings photographed by Brunner, who began taking photos when he was 14-years-old. Much of what he showcased featured his Appalachian artwork which depicted the War on Poverty, Mountain Churches, Save the Children, and the Kentucky Craft Guild.
With nearly 200 photos presented, the audience was graced with many photos which were of Berea throughout the 1940's to the 1970's and demonstrated the vast changes made throughout time.
Members of the audience exclaimed when they saw people they knew from around town and old buildings which were now car washes, or Mexican restaurants. Participants reminisced on simpler times with Brunner at the helm, telling stories of all his photos and journeys with his family.
His career started with a simple statement scrawled on a board: "Have camera, will travel." That is when he was hired by Mattson where he met his wife, Patricia.
"Eventually a girl came in, a little redheaded girl that bought a roll of film," he recalled. "One thing led to another and you heard of all the children, grandchildren, and great grandchildren we have."
With his family in tow, the clan traveled in an old Willys Jeep.
"The greatest blessing in our family, beside having children, was having a Jeep," he said --garnering a hearty laugh from his audience. "The girls would sit on the hood and I would come down the road through the water and it would slide up over the car and get them all wet. That Jeep also made it to the top of Indian Fort Road. Sometimes, I would get in trouble and have to be pulled out."
Among the photos displayed on Thursday, were pictures of snake handlers in Berea, chicken dinners, sorghum production, family reunions and baptisms in Red Lick, and Berea College students being shuttled into school buses to repair school houses in Appalachia.
Often, Brunner said, many of the moments he captured were borne out of simply getting lost.
"Every Sunday afternoon we got in the Jeep, and we drove down a road we had never been on and when we got to the end (of the road) we got out and walked," he recalled.
Later in the presentation, photos were shown which depicted The Carlton, Dixie Kitchen, Bybee Pottery, former Berea Post Office, Little Mama's, the Red Lick Grocery, the Big Hill Store, Berea College Square, Boone Tavern, and businesses that have taken on another life over the years.
Last changed: Jul 07 2022 at 3:36 PM
Back to Overview